There are many attractions to see and activities to try in Marrakech. However, what is often overlooked is the fact that the city is a foodie's paradise.
It is a city of scrumptious cuisines, poignant spices, and colourful dishes. If that describes what you would like to see and taste, then a trip to Marrakech is due.
Marrakech Offers a Wide Spectrum Of Tastes & Textures
The food of Marrakech ranges from sweet to spicy and everything in between. Some of its most popular dishes are soft and chewy, others are crunchy, and the rest combine these textures into one dish.
Let's not forget colour. The food of Marrakech is one of the most colourful sights you will see in the city, whether its the assortment of fruits and spices in street markets, or the arrangement of meals on your plate at local restaurants. The reality is that you can find a flavour, texture and combination of colours that are brand new for you.
A Short List of Popular Marrakech Dishes & Treats
Amlou – A dip made with argan oil, honey and almond paste.
Berkoukesh – A handmade pasta made with a fresh herb and tomato sauce, which is available at our Le Trou Au Mur restaurant.
Besarra – A garlicky fava bean soup.
Briouats – Samosa-like filled pastries with a triangular shape that comes stuffed with meat or a sweet almond paste.
Brochettes – Grilled skewers of meat that is very popular street food and often marinated in wonderful spices.
Charmoula Sardines – Sardines filled with finely chopped and lightly spiced seasonal veggies.
Kaab Ghzal – Classic Moroccan patisseries made with almond paste wrapped in pastry and shaped into gazelle horns.
Khobz – A round and flat Moroccan bread that is a staple of the country's food culture. It is often made with semolina flour and is used for dipping and scooping.
Loubia – Moroccan baked beans often served as a morning dish.
Ma'qooda – Potato fritters dipped in egg and deep-fried.
Mechoui – Spit-roasted lamb – a Moroccan staple which we serve with additional menu options at our Le Trou Au Mur restaurant.
M'smen – Flatbread-pancakes with honey, fermented butter (smen) and spices (sometimes dipped in Amlou).
Svenj – Moroccan doughnuts.
Tangia – A lamb dish preserved in lemon and slow-cooked overnight in the heat of hammam furnaces.
Tihane – Offal (organ meats) stuffed with mildly spiced kefta, chopped olives, and preserved in lemon.
The Markets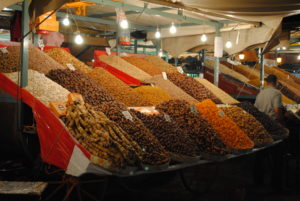 One of the appeals of visiting Marrakech is to see its bazaars and marketplaces, many of which are smorgasbords of food ingredients and street foods. If you call yourself a foodie, you owe it to yourself to walk through a crowded Marrakech market where merchants are selling food. Such a visit will make for great Instagram photos, but more importantly, it will whet your appetite for an extravagant Marrakech dining odyssey.
The Restaurants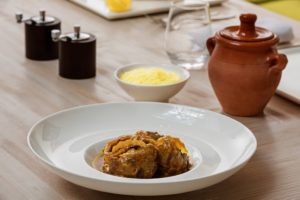 Of course, Marrakech restaurants offer a spectacular dining experience that will be sure to appeal to the hearts (and taste buds) of visiting foodies. The best Marrakech restaurants offer a variety of culturally-steeped dishes enjoyed by the locals, along with some more internationally recognized menu options.
For example, our Le Trou Au Mur restaurant serves a mix of popular dishes such as mechoui, berkoukesh, various Moroccan salads, banoffee pies, and a host of hot or alcoholic beverages.
The Origins of Marrakech's Diverse Food Culture
Marrakech is a tourist-friendly area that attracts millions of people annually. Long before that, the city was one of the key trading hubs and markets in North Africa. In fact, traders would bring spices and other goods along treacherous Saharan trade routes by camel.
The Arab people brought items such as mezze and fruit from the east, and the French contributed to Marrakech's development as a food destination. Among these food items were honey and saffron-scented stews, along with olives, mint leaves, and figs.
For centuries the city served as the centre for where food of various types flowed in and out. This never changed and is part of the reason why foodies still enjoy visiting Marrakech for its meals and cuisines.
Marrakech is a Foodie's Dream City
If you have spent the last few years viewing Marrakech solely as a getaway for history buffs, think again. It is culturally rich, but also, abundant with colourful, flavorful, and healthy dishes that will satisfy your appetite.
The food of Marrakech will leave a lasting impression on your mind, and many of your memories of the city will centre on the tasty meals you will have eaten. The food scene in Marrakech is unlike any other popular tourist destination outside of North Africa.